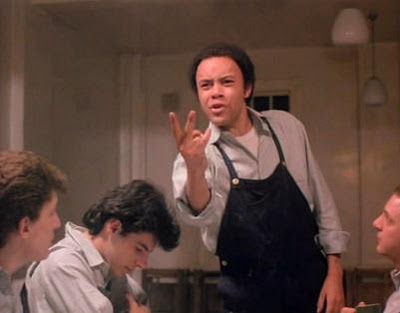 The Wing Meeting
is another well remembered scene, which climaxes in the beginning of a bitter rebellion against the system.
Scene breakdown
Edit
Housemaster Goodyear has called a maintenance meeting for all wings in the borstal, with several inmates present as well as senior warder Mr Whittle and the head of kitchen and catering, Mr White.
Complaints are made and investigated about fish being 'bad', and 'soggy batter'. Mr White protests, blaming 'strong-tasting Atlantic fish' and insisting 'powdered batter ingredients too expensive'. Many of the inmates look bored and indifferent, Meakin in particular.
Things take a dramatic turn when Dougan enters the meeting room with a tea trolley. The inmates are permitted to smoke while they have the tea, just as Goodyear is preparing to round up the meeting and close. Dougan, while giving Meakin his tea, whispers something in his ear; Whittle spots this and orders Dougan out of the room. Meakin suddenly seems like stone, ignoring Goodyear and Whittle when they try to get his attention.
Whittle orders Meakin to stand up and reply, and Meakin cracks, hurling his teacup against a wall and furiously yelling what Dougan has told him - his friend and fellow inmate Toyne has committed suicide at Wormwood Scrubs prison where he was transferred following an earlier attempt. Meakin blames the borstal and it's staff for their incompetence and apathy, and yells "Up your f***ing borstal!" with a two-fingered salute before storming out. The room and it's occupants then sit in stunned silence.
The scene is iconic of the film's turnaround where the inmates finally begin to fight back against the system that is destroying their dignity, their future, even their very lives.
1977 Version
Edit
The Meakin character was absent from this version of Scum, as was the death of Toyne and the outburst in this scene.