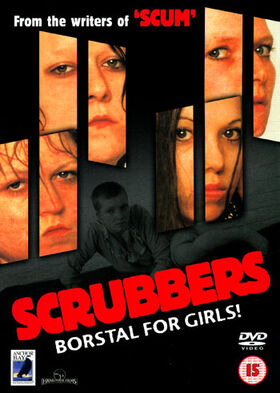 Scrubbers is a 1983 British drama film directed by Mai Zetterling and starring Amanda York and Chrissie Cotterill. It was shot primarily in Virginia Water, Surrey, England. It was inspired by the success of the 1979 film Scum, and was again written by Roy Minton.
Screenwriter Minton was away overseas during the time of shooting, and disassociates himself totally from the film; he felt the original screenplay had been "savaged" and describes the final production as "...arguably the worst film ever made".
A novel based on the film, and also entitled Scrubbers, was written by Alexis Lykiard and published in London by W.H. Allen Ltd in 1982.
Film Info
Edit
Released:1983
Company: Handmade Films
Rating: BBFC '15'
Runtime: 90 minutes
Budget: £600,000
Language: English
Slogan: "IT'S A CRIME WHAT PRISON CAN DO TO A GIRL!"
Two girls escape from an open borstal. Annetta (Chrissie Cotterill) wants to visit her baby daughter who is being raised in a convent. Carol (Amanda York) plans to be recaptured and sent to the closed borstal where her girlfriend Doreen is being held. Carol's plan works, but she is devastated to find that Doreen has a new girlfriend. Doreen and the girlfriend taunt Carol. Annetta is arrested at the convent and sent to the same closed borstal. She assumes Carol "grassed" her up and proceeds to plan her revenge. Inmate Eddie professes her love for Carol and offers protection, so Carol begins a relationship with her. Annetta's constant bullying attempts keep her in solitary confinement. When Eddie is released Carol loses her protection and Annetta plans another attack.
Amanda York - Carol Howden
Chrissie Cotterill - Annetta Brady
Elizabeth Edmonds - Kathleen
Kate Ingram - Eddie
Amanda Symonds - Mac
Kathy Burke - Glennis
Debby Bishop - Doreen
Eva Mottley - Pam
Imogen Bain - Sandy
Honey Bane - Molly
Camille Davis - Sharon
Rachael Weaver - Gwen
Dana Gillespie - Budd
Pauline Melville - Crow
Pam St. Clement - Strapper
Miriam Margolyes - Jones
Jackie Holborough - Daly
Brian Croucher - Leo
Tim Kightley - Dr. Siles
Robbie Coltrane - Puff Guts
Jane Freeman - Sister
Valerie Lilley - Nun
Ken Shorter - Lorry driver
Original Theatrical Trailer
Edit