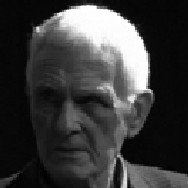 Roy Minton (born Nottingham, England) is an English playwright best known for Scum and his other work with Alan Clarke. He is notable for having written over 30 one-off scripts for London Weekend Television, Rediffusion, BBC, ATV, Granada, Thames Television and Yorkshire Television, including Sling Your Hook, Horace, Funny Farm, Scum, Goodnight Albert, and The Hunting of Albert Crane.
He has translated and performed several of his plays overseas and at festivals in the UK, including a reading of his play for Scum at the Royal Shakespeare Company, London; and Gradual Decline at the Riverside Studios London.
Minton also wrote the screenplay for Scrubbers, a film from which he disassociates himself totally. During his absence overseas, he felt the original screenplay had been "savaged" and describes the final production as "...arguably the worst film ever made". Minton also had a falling out with Alan Clarke over the 1979 remake of Scum, in which he had little involvement and a homosexual relationship scene being cut, which Minton regarded as a strong character development point.
Born in Nottingham England, Minton won a two-year scholarship at the Guildhall School of Music and Drama, London. He worked as an actor prior to writing full time. He was winner of a BBC playwriting competition, received the Art Council Award and was resident dramatist at the Nottingham Playhouse.
Personal life
Edit
Minton lives in north London and continues to write novels, scripts and plays. He is currently working on his autobiography.

.
Ad blocker interference detected!
Wikia is a free-to-use site that makes money from advertising. We have a modified experience for viewers using ad blockers

Wikia is not accessible if you've made further modifications. Remove the custom ad blocker rule(s) and the page will load as expected.