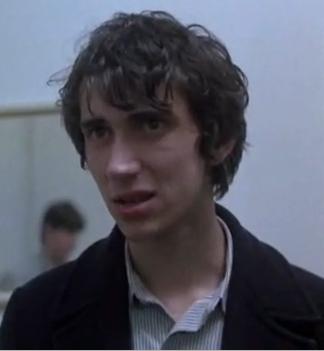 Richards
(
Phil Daniels
) is the main stooge in
Banks
' gang of three, who is just as violent and cruel as the initial '
Daddy
' himself.
He is largely a mouthpiece for Banks, and makes most of the verbal threats while Banks provides the brawn, although he often joins in the beatings once Banks has begun on a victim. He is nicknamed 'Striper' or 'Slasher' by Banks, indicating his penchant for using blades on people.
Richards threatens to 'carve up' inmates Jackson and Rhodes at one point in the film, after they mock his boasts and bragging. He also makes a similar threat to Archer when he stands up for Woods, whom Richards is bullying at the time. Richards is finally dealt with by Carlin in the recreation room; after he threatens Woods and Archer, Carlin coshes him with snooker balls in a sock and kicks him as he lies on the floor whimpering.
After Banks is also assaulted and removed with serious injuries, Richards spends his time with third gang member Eckersley, and they plan a 'big job' when they get out, and boast about the women that want them, though they are not taken seriously, even by the younger inmates.
"There's plenty more where that came from, Carlin...you just keep ya f***in' mouth closed! You ain't no 'daddy' here."