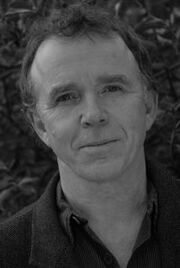 Mick Ford
(born 1 August 1952) is a British actor, screenwriter and playwright, best known for his portrayal of intellectual convict
Archer
in the cinema version of
Scum
. He also played 'Chico Barnes' in the TV series based on the
Dick Francis
racing thrillers. Ford was educated at John Ruskin Grammar School, Croydon, and was a member of the National Youth Theatre.
Ford has written and starred in numerous British drama serials, theatrical productions, and has been used for many voiceovers and advertising campaigns. He had regular roles in the BBC drama series Silent Witness and Fish, and in the comedy Big Bad World.
He has also written the critically-acclaimed television dramas The Passion and William and Mary.
Ford's most famous role comes in the 1979 film Scum. Set in a UK borstal, Ford plays the character Archer, an intelligent troublemaker who just wants to serve his time "in his own little way.". This role gained Ford media attention and thrust him into the spotlight somewhat. Ford also had a role that year in the television film The Knowledge in which he stars as an unemployed man who is encouraged by his girlfriend (played by actress Kim Taylforth) to apply to the Metropolitan Police Public Carriage Office to become a black cab driver.
He also appeared in the much-lauded play, The Promise.
.
Ad blocker interference detected!
Wikia is a free-to-use site that makes money from advertising. We have a modified experience for viewers using ad blockers

Wikia is not accessible if you've made further modifications. Remove the custom ad blocker rule(s) and the page will load as expected.