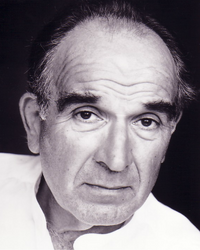 John Grillo (born 29 November 1942, Watford, Hertfordshire) is a British actor who has appeared in many film and television productions.
He played 'Mr Samgrass' in the ITV series Brideshead Revisited, and 'Phillip Marriott QC' in Crown Court. He had minor parts in other shows, including Blackadder II, Bergerac, Taggart and Rumpole of the Bailey. In 1979's Scum he played Housemaster Goodyear. He had an appearance in the children's television adaptation of John Wyndham's science fiction drama 'Chocky' as corrupt head psychologist Sir William Thorbe.
In 1997 he appeared as 'Mr Carkdale', the English teacher who spoke only in Anglo-Saxon, in two series of Steven Moffat's school-sitcom Chalk. In 2008, he contributed to the audio commentary for the DVD release.
.
Ad blocker interference detected!
Wikia is a free-to-use site that makes money from advertising. We have a modified experience for viewers using ad blockers

Wikia is not accessible if you've made further modifications. Remove the custom ad blocker rule(s) and the page will load as expected.