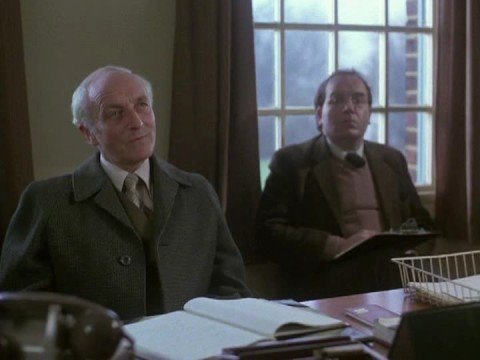 The Governor (Peter Howell) of the borstal is one of the more prominent characters in the film and is seen everytime an inmate is sent to his office on report. The governor is a religious man and is reluctantly tolerant of every inmate's personal beliefs, which Archer continually takes advantage of by pretending to be a vegetarian and an atheist.
He is much calmer and less violent than the warders of the prison, as with Housemaster Goodyear and the Matron, and often talks to Archer about books he may like to read in the future (usually of a moral or Christian theme) whenever he is sent to his office on report.
However, his true colours are shown when Archer casually mentions his false feeling of being "drawn towards Mecca", prompting a furious response from an indignant Governor.
In the script, the Governor's surname is 'Baildon', though this is not mentioned in any dialogue or credits within the film.
"MECCA, Archer? Archer, you will see the chaplain tomorrow...you told them you were Christ at Dover Archer, you WILL see the chaplain tomorrow and there will be no more talk of MECCA in this establishment!"
1977 Version
Edit
In the BBC screenplay, The Governor is portrayed by Richard Butler.
Butler plays the Governor more uptight, and comes across startled with disbelief at Archer's statements, whereas Howell gives an air of barely reserved seething fury.
Ad blocker interference detected!
Wikia is a free-to-use site that makes money from advertising. We have a modified experience for viewers using ad blockers

Wikia is not accessible if you've made further modifications. Remove the custom ad blocker rule(s) and the page will load as expected.