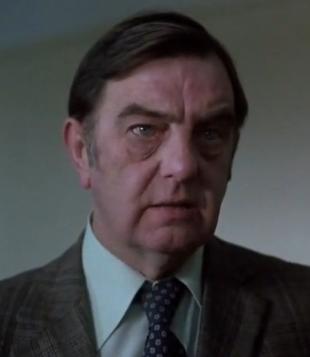 Mr Duke
(
Bill Dean
) is a
warder
nearing retirement age at the
borstal
. Despite his gruff and dour exterior, Duke is a little more reasonable than the other warders, offering
Archer
some of his coffee and some advice while assigned to watch him due to Archer's refusal to attend Sunday morning service on grounds of 'atheism' (a wheeze by Archer to cause extra hassle for the officers).
However, Duke is sorely provoked in a memorable scene, when Archer points out that the system brutalises not only the inmates but the wardens also, and that Duke remains only a basic officer despite his many years in the service.
A furious Duke, in hard denial, ends the conversation to reprimand Archer, putting him on report for insolence.
"Keep it moving! It's not sandcastles at Margate beach! Come on Archer, no slacking from you, ya long streak of cabbage!"
1977 Version
Edit
In the BBC screenplay, Duke is portrayed by Dennis Castle.
Castle plays Duke rather less curmudgeonly than Dean's version.