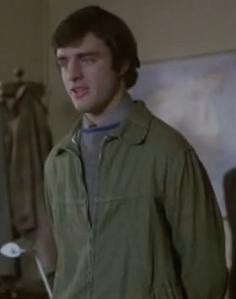 Betts
(
Andrew Paul
) is an
inmate
looking to leave
borstal
in the near future, following a good report and a child about to be born with his girlfriend on the outside. Laddish and chirpy, he seems to get on well with the other inmates and does not appear to have any major issues or enemies.
Betts appeals to the Governor's moral side by requesting a day's leave to marry, to which the Governor agrees 4 hours under escort; however, he expresses his reserve concerning the 'registry office' and the 'cost to the taxpayer', to which Betts states that a 'proper church wedding' will take place when he is released. The Governor nonchalantly approves, warning Betts not to 'misplace his trust'. The other inmates surprise him with a joke 'bride' (inmate Angel dressed up) when he returns, but this turns into a scuffle when Betts makes a throwaway racist comment.
Betts last scene is in the canteen hall when he casually informs troubled inmate Davis that he will be working on the allotments the next day, thinking it a good job, totally unaware that Davis was viciously sexually assaulted earlier that day in the same location. Davis later takes his own life, depressed and dreading another attack.
1977 Version
Edit
In the BBC screenplay, Betts is portrayed by Peter Kinley. Some of his dialogue was later given to Meakin in the 1979 film.
Ad blocker interference detected!
Wikia is a free-to-use site that makes money from advertising. We have a modified experience for viewers using ad blockers

Wikia is not accessible if you've made further modifications. Remove the custom ad blocker rule(s) and the page will load as expected.